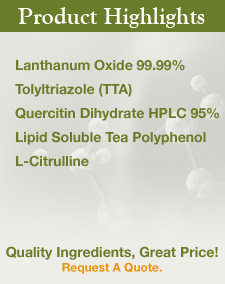 Industrial Ascorbic Acid Supplier
Wholesale Ascorbic Acid
Bulk Ascorbic Acid
Ascorbic Acid Powder
Ascoribic Acid Manufacturer
Ascorbic Acid Additives
Ascorbic Acid Chemical Supply
Ascorbic Acid Food Ingredients
Ascorbic Acid Importer
Ascorbic Acid Granules
Antioxidants
Ascorbic Acid 97% Granule
CAS # 50-81-7
FORMULA: C6H8O6
DESCRIPTION: White or almost white granular powder
GRADE: Food Grade
CATEGORY: Raw material

Request A Quote for Ascorbic Acid
Dictionary:
Ascorbic acid - a·scor·bic acid   (ə-skôr'bĭk)
A white, crystalline vitamin, C6H8O6, found in citrus fruits, tomatoes, potatoes, and leafy green vegetables and used to prevent scurvy. Also called vitamin C.
Ascorbic Acid / Vitamin C Links:
Wikipedia>Ascorbic Acid
Wikipedia>Vitamin C
Answers.com>Ascorbic Acid
Global Strategic Connections
GSC delivers the highest quality natural and raw material products through trusted relationships with industry leading chemical and ingredient suppliers and manufacturers.
Should you require chemical raw material that is not on our list, we can identify and qualify a suitable source. Please give us a call today for product availability and pricing.